Roscoe Dunjee's humble beginnings did not dampen the efforts or effects of his advocacy for Black dignity and equality, both within his local community as well as at the national level, and his contributions continue to benefit Black Americans, and all of America, to this day.
Roscoe Dunjee was born in 1883 in Harper's Ferry, West Virginia. Roscoe's father J. W., born into enslavement, had liberated himself via the Underground Railroad in 1859, escaping to Canada by boat, and returning to America at the close of the Civil War. After his return he met and married his wife Lydia and they started a family. J. W. was a college-educated missionary Baptist minister, who established Black churches all over the eastern United States, before the family was sent to Oklahoma City in 1892 to fight the influence of sin. The family settled for a while in Oklahoma City, then moved to Langston in 1897 where Roscoe's father helped establish what would become Langston College. Roscoe was enrolled in the first classes offered by the school in 1898, majoring in printing.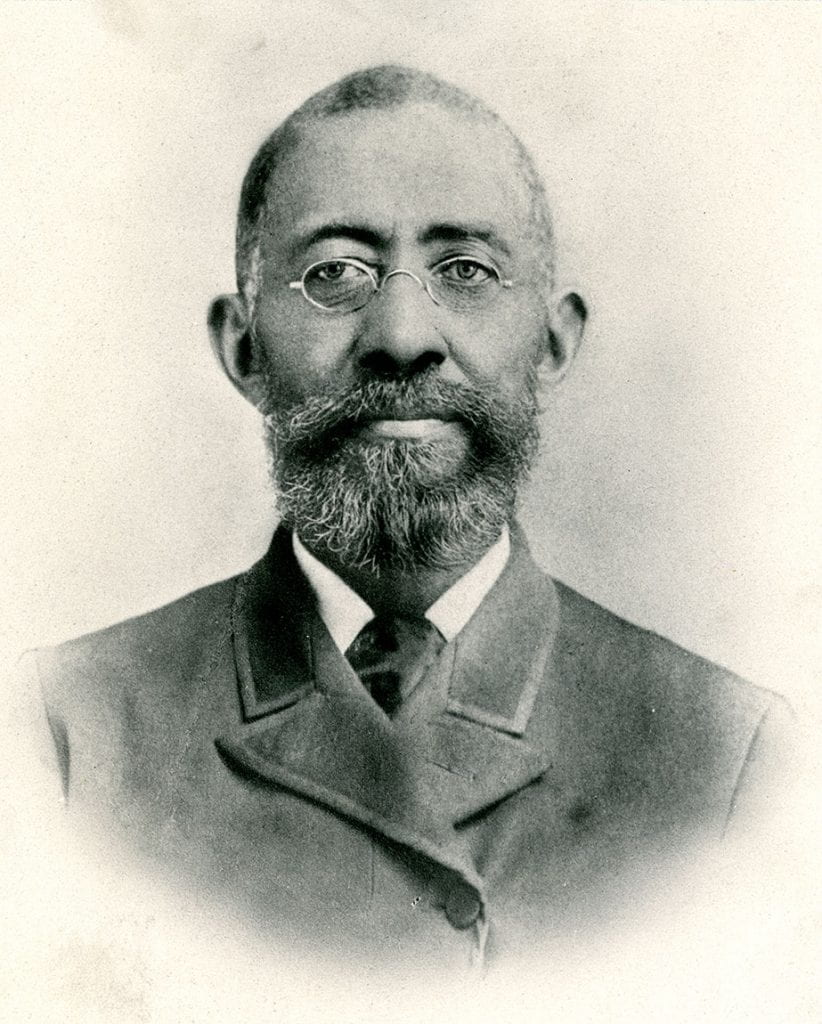 Roscoe's father died in 1902. He was known to give the parishioners' tithes that he received as payment back to those in need, but the Dunjees were left penniless. Roscoe stepped up to sell fruit and vegetables raised on the family farm to support the his mother and four siblings, supplementing this by writing freelance articles for local papers, and working after hours in the print shop of the Langston Herald, the school's newspaper.
Roscoe was outspoken about issues of justice in his articles, and once when writing under the byline of his editor, C. M. Moran, for the Oklahoma Gazette, he produced a scathing editorial blasting another newspaper editor for his efforts to oust Langston College president Dr. Inman E. Page. Later as Roscoe and Moran walked down the street, the subject of the editorial punched Moran right in the solar plexus, bringing him to the ground.
Roscoe Dunjee lived in Oklahoma City during a time of intense racial oppression, from Plessy v. Ferguson establishing the law of 'separate, but equal' in 1896, to the spate of Jim Crow laws the newly minted state of Oklahoma began passing in 1907. The KKK also became a major force in Oklahoma after 1921 for a period of about a decade, adding to the racial terrorism enacted on Black Oklahomans.
Roscoe Dunjee faced these challenges head on. Roscoe's father had published a local newspaper back in West Virginia during his early childhood, and Roscoe had studied printing at Langston and honed his writing ability for years. In 1913 he bought a used printing plant from a local school teacher, and by 1915 he launched his newspaper, The Black Dispatch. The mission of the paper was to uplift and educate Black people, and fight for racial equality.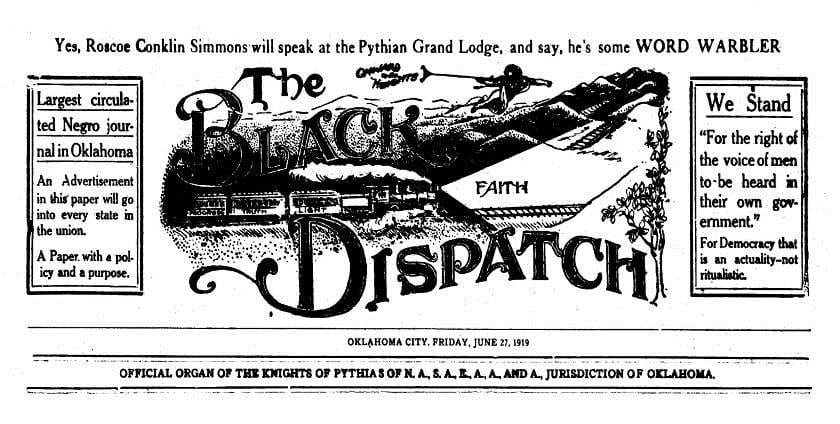 No issue or injustice was too large or too small for Roscoe's notice, and his impact was felt at both the local and national level. He wrote passionately about hometown issues such as the lack of public parks accessible to Black residents of Oklahoma City, and the lack of a hospital that serviced its Black citizens. The 1919 editorial entitled "Our Civic Shame" castigated city officials for their negligence of the Black community's medical needs; his words, as well as his vigorous fundraising drive greatly contributed to the opening of Great Western Hospital in Oklahoma City by the end of 1919. Many editorials encouraged Black people to exercise their right to vote, and conversely, shamed the white supremacist lawmakers who attempted to rob Black people of the franchise. Roscoe's sister Drusilla Dunjee-Houston wrote weekly Black history lessons, and names associated with Black excellence and leadership were always highlighted in the paper. The Black Dispatch was also a training ground for other Black journalists, and Ralph Ellison recalled his days working at the newspaper with Roscoe Dunjee as having inspired him to become more than a musician, and try his hand at writing.
Roscoe fought hard against segregation, abhorring the racial prejudice it was based upon. When Oklahoma City passed an ordinance in 1916 forbidding any black person to own property in any area of town that was 75% white or more, Roscoe was on the front lines bailing people out of jail, paying for their attorneys, helping people to buy properties to break the ordinance in order to challenge it in court, often out of his own pocket. Roscoe's eventual victories in defeating these housing segregation ordinances brought him national fame as a civil rights activist in the 1930s. Ralph Ellison would later recall that during his boyhood in Oklahoma City The Black Dispatch introduced and normalized the idea of changing segregation through legal constitutional challenges.
Roscoe also worked at the national level. He brought the NAACP to Oklahoma, and then worked with NAACP chief counsel and future Supreme Court Justice Thurgood Marshall to overturn Oklahoma's laws segregating higher education. His contributions, including financial, to the case of Ada Lois Sipuel Fisher for the right to enter University of Oklahoma Law School in 1946, were part of the body of precedent cited by the Supreme Court when they overturned 'separate, but equal' with Brown vs. Board of Education and outlawed racial segregation in America.
Roscoe sold his newspaper in 1955 to a nephew and retired. At his retirement party his friends and colleagues revealed they had bought him a trip to Africa as a retirement present. At his death ten years later in 1965, his friend Thurgood Marshall gave a eulogy. In 1969 he was posthumously invoked into the Oklahoma Journalism Hall of Fame.
The racist laws that Roscoe helped to overturn, his advocacy for Black pride, the calls for community solidarity in the face of racist adversity, and the work he did to fight any injustice he was aware of, these all make Roscoe Dunjee a person who should be remembered as a national hero. These examples of his efforts are only a small sampling of his accomplishments, he touched many more lives than are possible to name in this small blog entry. His comrade in the fight for equality and poet Melvin B. Tolson, Sr. said that the "'little editor' did more for the cause of human dignity than any other Oklahoman of any race."