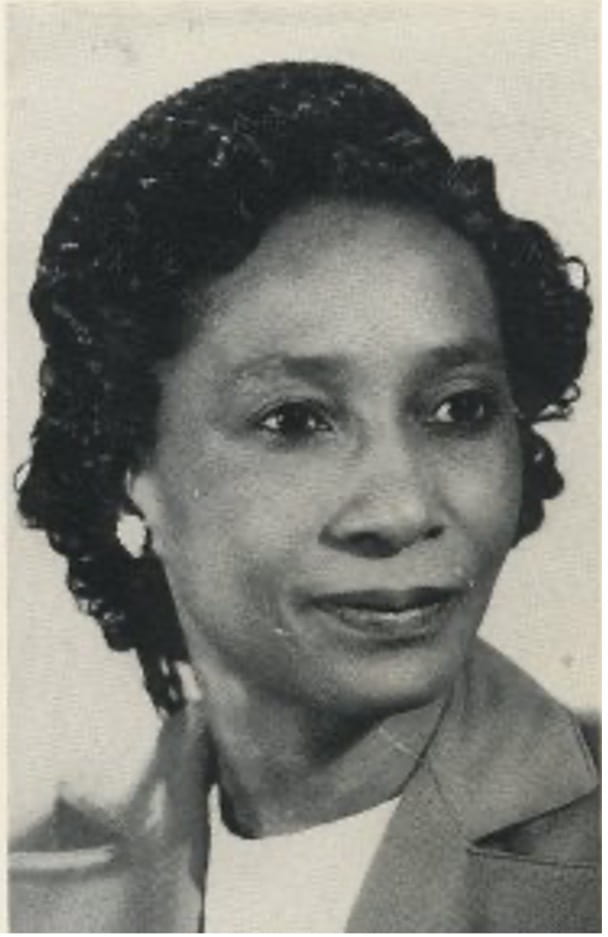 (Tulsa Historical Society and Museum. 2009.021.002 | Tulsa Historical Society, 1990, https://tulsahistory.pastperfectonline.com/library/BF4CF919-2DD9-485E-B4F5-284548293464
Mabel Bonner Little, 1896-2001, was a predominant Black businesswoman in the Greenwood district. She owned and operated her own beauty salon for 53 years before retiring and along with her husband Pressley, they operated several other businesses and rental properties. Mabel is a survivor of the 1921 Tulsa Race Massacre, her business and home being destroyed leaving the family with $50 to rebuild. Though her life and business were devastated, she cleared land to build a house and rebuilt the Little Rose Beauty Salon. Mabel was a vocal advocate for the prosperity of the Greenwood district, organizing events to reopen schools and protesting against the demolition of the Mackey house. She also aided in the reconstruction of the Mount Zion Church that was burned down and lent her home to the members of the church. She was a prosperous woman, resilient in the face of disaster, and advocated her entire life to improve Greenwood and Tulsa for her community.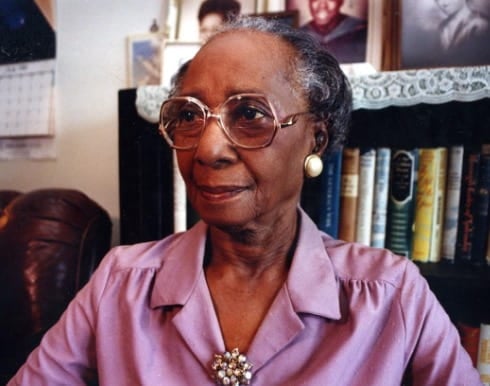 (Tulsa World, "Black History Month: Mabel B. Little Survived Tulsa Race Riot and Became Matriarch." Tulsa World, 21 Feb. 2017, https://tulsaworld.com/news/black-history-month-mabel-b-little-survived-tulsa-race-riot-and-became-matriarch/article_867a3f10-7618-590b-aaef-09ddf726426e.html.)
Mabel was born in Spring, Texas in 1896 and later in her childhood, the family moved to the All-Black town of Boley, Oklahoma. In 1913, at the age of 17, Mabel decided to move to Tulsa with $1.25 in her purse in hopes of furthering her education at Langston University. She started worked at the Brady Hotel once she arrived to Tulsa. She then met Pressley Little and by December 1914 they were married. Mabel was able to open her first beauty shop in her house. She later purchased a larger building for The Little Rose Beauty Salon with two more operators and over 600 regulars. Mabel and Pressley also had twelve adopted children, most being close relatives.
Like others living in Greenwood at the time, Mabel and Pressley were deeply emotionally and financially traumatized by the 1921 Tulsa Race Massacre. Mabel and Pressley lost all of their businesses, property, home and car as well as the Mount Zion Church, a major part of their lives. Mabel and Pressley started to rebuild their lives immediately. By July, they had built a three-room house on what was originally a farm, clearing the land themselves. Pressley's health started to decline and after developing tuberculosis he passed away in 1927.
Mabel rebuilt The Little Rose Beauty Salon and she was also active in the revival of Mount Zion. Without a church, Mabel opened her home for members to have a place for worship and raised funds to rebuild the church. Mabel continued working in her salon, but during WWII, that job was interrupted. She became a sheet metal worker for airplanes, moving to Kansas and California, then coming back to Oklahoma after the war. She retired after working 53 years but took on a larger role as an activist for her community. She and other Greenwood community leaders also banded together against the demolition of the Mackey house in the 70s. They were fighting to preserve the memory of Greenwood and fighting against the silencing of their community. The Mackey house was dedicated to her for her leadership and activism in the community, now called the Mabel B. Little Heritage House.
Mabel B. Little was a resilient and prosperous businesswoman who lived through hardships and trauma but persisted and rebuilt. She was an advocate for her community from her arrival to Tulsa in 1913 until her passing away in 2001 at 104 years old. Her actions can be witnessed in the present.
(Mount Zion Baptist Church) Historic Tulsa, Mount Zion Baptist Church, 2009 http://historictulsa.blogspot.com/2009/11/mount-zion-baptist-church-1909-1921.html.
Sources:
Little, Mabel B. A History of the Blacks of North Tulsa and My Life (A True Story). 1971. https://www.jhfcenter.org/osuwpgreenwood. https://21400bc3-acb9-420d-98ec-ac1476caeba6.filesusr.com/ugd/9bd760_c4709cc719624cdcb28ba5ef2223a240.pdf
Johnson, Hannibal B. Black Wall Street: From Riot to Renaissance in Tulsa's Historic Greenwood District. Lightning Source Inc., 2013.
Butler, Kirstin. Mabel B. Little interview. "Black Wall Street: Then and Now." PBS, Public Broadcasting Service, 1 Feb. 2021, https://www.pbs.org/wgbh/americanexperience/features/t-town-black-wall-street-then-now/.
The Victory of Greenwood, "Mabel B. Little.", 6 Apr. 2021, https://thevictoryofgreenwood.com/2020/05/11/the-victory-of-greenwood-mabel-b-little/?v=7516fd43adaa.