Established in 1903 by 4 men who resolved to organize a town site, the people of Rentiesville were described by one resident as "one great loving family."  The 40 acres of land the town was established on was generously donated by Mr. and Mrs. William Rentie and Mrs. Phoebe McIntosh.  Upon its founding the town boasted that a good well of water can be obtained in most any part of the town, and common facilities included a brick school, a church, a post office, and the MK&T railway that ran both freight and passenger trains daily.  Its businesses eventually included a cotton gin, sawmill, multiple general stores, a drugstore, as well as rich farming in the floodplain of the nearby Elk Creek. 
Two famous children of Rentiesville are legendary bluesman D.C. Minner and Dr. John Hope Franklin.  Minner was born on the in land that once held his grandmother's homestead in 1935.  His grandmother later tuned the front of her house into a blues club, which Minner described as "a house of shame, a corn-whiskey house," much to the shock of the town.  The club is now named "Minner's Down Home Blues Club," and is open year round, and hosts the "Dusk til Dawn Blues Festival" annually, which draws musicians from around the country.  D. C. Minner was inducted into the Oklahoma Jazz Hall of Fame in 1999; while he died in 2008, his wife and musical partner Selby keeps the club and festival running to this day.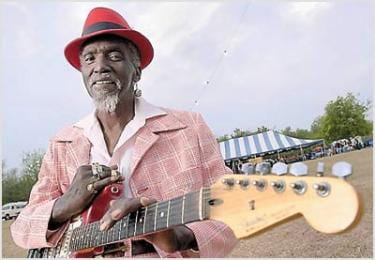 Dr. John Hope Franklin was born in 1915, son of attorney B.C. Franklin, who himself is famous for providing free legal assistance to the victims of the Greenwood Race Massacre in their recovery efforts. For example, after the massacre the City of Tulsa  passed an ordinance making rebuilding by property owners in the Greenwood district prohibitively expensive; B.C. Franklin and his two legal partners sued and got the ordinance overturned, with the court declaring it an invalid taking of property without due process of law.  B.C.'s son, John, was an alumnus of Harvard, a Duke University professor emeritus, and chair of former President Clinton's advisory panel on race relations.  A celebrated historian and author, his best known work is From Slavery to Freedom.  In 1995 he was awarded the Presidential Medal of Freedom, the nation's highest civilian honor.

Rentiesville is also the site of the Battle of Honey Springs, a crushing Union victory over the Confederacy that was won by Black troops, and is so significant it is being considered for national park status.  Considered the Gettysburg of the west, the after the Battle of Honey Springs, the Confederate army never mustered as many soldiers in the field again.  The Union General in charge of the troops praised them for their coolness and bravery in battle, their success against troops twice their number, and how each individual soldier did their duty so well.
Johnson, H. B. (2007). Black Wall Street: From Riot to Renaissance in Tulsa's Historic Greenwood District. Eakin Press.
Johnson, H. B., Dyson, M. E., & Portis, C. (2002). Acres of aspiration: The all-black towns in Oklahoma. Eakin Press.