Before it was Taft, the All-Black Town just outside of Muskogee was known as Twine. In 1902, the town established a post office and thus was able to create the All-Black Town. Taft was built on land allotted to Creek freedman and remains one of thirteen all-Black towns left in the state of the original fifty. At its peak, the community supported two newspapers, the Tribune and the Enterprise, three general stores, a bank, two hotels, a soda pop factory, and more. The town was heavily advertised as the "fastest growing colored community in Oklahoma."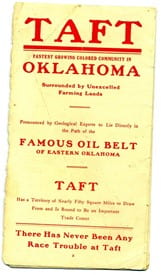 Perhaps the greatest accomplishment of Taft is its status as the town to have elected the first female African American mayor in the United States. In 1973, the town elected Lelia Foley-Davis as mayor. She remained mayor of the town until she lost her mayoral seat in 1989 but was reelected again in 1999 to continue her tenure.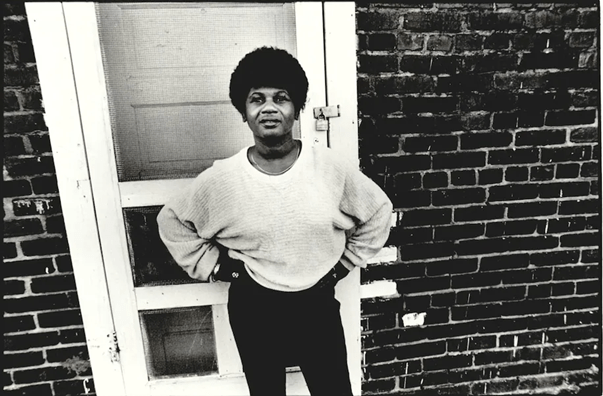 This historic election opened many doors for Davis, who fought hard for her community, arguing for better schools and housing for the residents. Due to her status as the first female African American mayor, Davis was invited to the White House to speak with numerous presidents and prominent political figures. Foley-Davis once described her visit with President Gerald Ford:
"The president's dog, a golden retriever, was running around the White House and everyone was petting the dog," Foley-Davis said. "I looked at the president and said, 'I did not come here to play with a dog, I came here to talk to you about housing for my community.'"
Not long after her discussion with President Ford, housing was erected by the Department of Housing and Urban Development. In addition to her fierce advocacy for the town, Foley-Davis' dedication to Taft was unwavering. When Sen. Edward Kennedy offered her a staffing position, she declined, stating her commitment and responsibility to Taft.
Today, a little more than 200 people remain in the township. Most of what remains in the town is housing, with a town gazebo for gathering and a woman who sells 25 cent chocolate chip cookies out of her home. Two minimum security prisons are located nearby, which results in frequent complaints from residents concerned for their safety and the wellbeing of their historic town. Despite its struggles, the town of Taft broke glass ceilings and opened doors from the time the post office was first built and today, brings pride to the state of Oklahoma for its rich history and accomplishments.