Early in the history of Oklahoma (as we know it today), recently freed Black Americans frequently moved to "Indian Territory" with the hopes of creating spaces in which they could find relative prosperity. Oklahoma was the epicenter for All-Black Towns in the United States with more than fifty being established. Today thirteen all-Black towns remain; Vernon is one of the few All-Black Towns that remain alive today! Founded in 1911, the hope for Vernon was that Black people escaping persecution elsewhere in the state could achieve success in their own space. One thing that was important for many families in the community, and would have been for me as well, was education. Vernon became one of the first communities in the state to house a Rosenwald school, which were established via philanthropic funds from Booker T. Washington and Julius Rosenwald as a way to counter the lack of funding that Black area schools receive(d). The increase in access and quality of education brought about by this school funding may have contributed to Black success in the community and likely would have made Vernon a really appealing place to live. Despite the triumph that many of the all-Black settlements led to, all-Black towns across the country have disappeared. Most of Oklahoma's All-Black Towns have become ghost towns, and the ones that remain are at risk of disappearing as well. Vernon's current mayor Lonnie Cato believes that World War II was the turning point for the city. After the war many people began leaving the city and with the citizens went business and investments. This trend is common to All-Black Towns; the small size and under-funding of the communities results in a struggle of survival. One of the most historically important parts of town was the Rock Front Post Office which has even been listed on the National Register of Historic Places. The two pictures show the post office in 1984 and in 2017. The deterioration of the town is evident in this contrast. Unfortunately, many of Oklahoma's beautiful all-Black communities are vanishing, and the town of Vernon that was established as an act of hope is threatened with the same fate.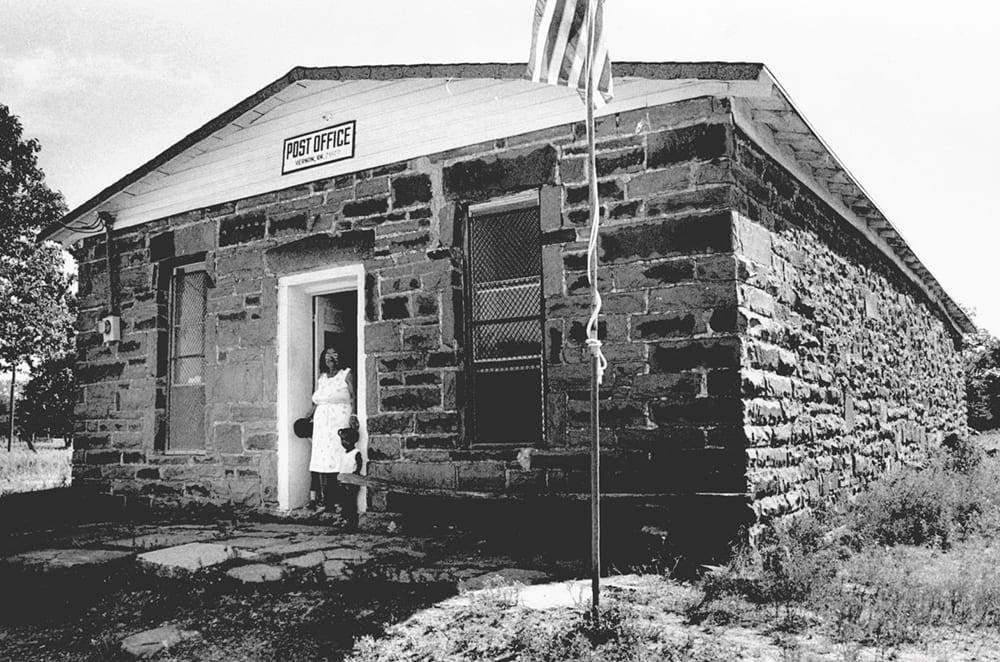 References:
Howell, Paul S. "[Photograph 2012.201.B1329.0529]." The Gateway to Oklahoma History, June 22, 2015. https://gateway.okhistory.org/ark:/67531/metadc655025/?q=vernon+.
Larry O'Dell, "Vernon," The Encyclopedia of Oklahoma History and Culture, https://www.okhistory.org/publications/enc/entry.php?entry=VE004.
Overall, Michael. "In One of Oklahoma's Historic All-Black Towns, the Mayor Hopes for Mere Survival." Tulsa World, January 27, 2021. https://tulsaworld.com/news/local/in-one-of-oklahomas-historic-all-black-towns-the-mayor-hopes-for-mere-survival/article_b8fda2ca-658f-597d-85b4-f22540e3a062.html.
"Rock Front, Vernon, OK.jpg – Wikipedia," August 16, 2017. https://en.wikipedia.org/wiki/File:Rock_Front,_Vernon,_OK.jpg.